Visitor Management Systems
How Visitor Management Software Makes a Happier Customer and Employee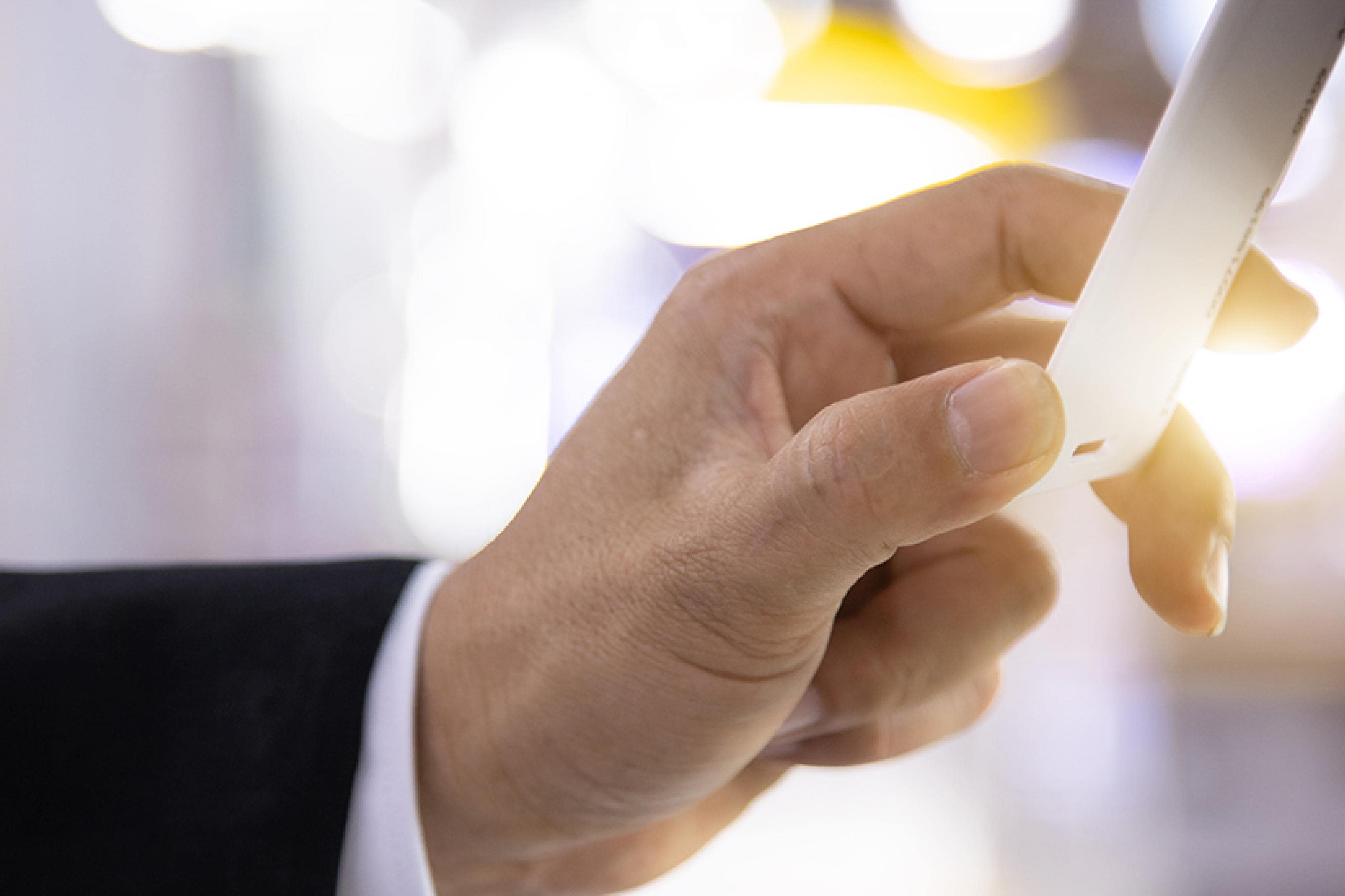 Not long ago, managing the flow of people into commercial buildings was a fairly simple process. All you needed was a front desk for visitors and an access control system for your employees.  
Today, given new health, safety, and security risks and requirements, past procedures may no longer be sufficient.  
Organizations today have to answer questions like:  
Are people entering healthy? 

Can we identify people properly through a mask? 

Are we compliant with current visitor management regulations? 
It's time to consider other security measures besides front-desk personnel and security guards. The right screening technology can help you with not only visitor management but workplace management as well. It's a vital tool to improve your operations, to foster a healthier work environment, and ensure that you're providing an optimal visitor experience.   
How Visitor Management Solutions Work 
"Visitor management is no longer just about the visitor; it's about managing any individual crossing your organization's threshold," notes John Skowronski, President of Sales & Operations.  
One of the main roles of visitor management systems is confirming that everyone who's entering, exiting, or inside your building is supposed to be there.  
An effective visitor management system will give insight into data such as: 
Who's a new visitor and who's returning 

Group registration 

Bulk registration 

Who RSVP'd  

How many visitors are expected that day and who they are (ex: electrician)  
Visitor management systems digitize tedious, manual processes. For example, good solutions will have built-in electronic logbooks. Electronic logbooks make it easy to look up a visitor in seconds, rather than flipping the pages of a paper logbook and deciphering different handwriting.  
A staple part of visitor systems is ID scanning. Cloud and mobile-based devices make it possible to scan an ID and capture demographic data. This also helps reduce duplicate records from data entry errors. 
Visitor management solutions also enable you to create a pre-registration process that smooths the visitor experience and gives you greater control over who enters, enabling, for example a check against a 'prohibited visitors' list.   
The end result is a system for smooth and efficient management of the visiting processes that makes for happier customers and employees. 
Screening in the Age of the Coronavirus 
Even as the Omicron COVID-19 wave recedes, organizations still have to address a host of health priorities that simply weren't a concern in the past.  
One way to screen entrants coming in is through visitor management kiosks. These self-serve units have a number of advantages. Screening questions can be quickly updated as the pandemic ebbs and flows, and you can even include a temperature check.  
Mask wearing is likely to remain common for some time to come. Therefore, it's imperative to look for visitor management technology that can identify visitors and employees who are wearing masks. They use biometric technology to detect facial characteristics like hair and eye color and may confirm birthdates for identification.  
For your employees, the same technology can support a safe return to the workplace. Workplace management solutions help streamline daily screening and tasks like workspace reservation.  
In these uncertain times, customers and employees need to know that you've taken every possible precaution to protect them. Once you've demonstrated optimal ways to safeguard their health, they'll know they can work safely and continue to be productive at work.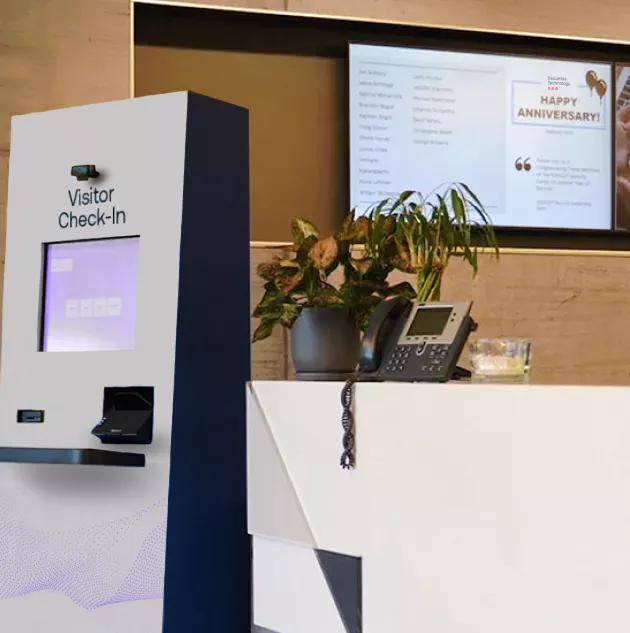 Streamline Operations and Ease Compliance Worries 
Another key concern for managing your visitors is privacy and data protection. Traditional logbooks don't do a great job at stopping someone from looking at previous entries, or if the logbook goes missing you're dealing with a data breach that you are virtually powerless to do anything about. You don't even know what information you've lost, and can't do any proactive reporting or remediation. 
Regulations on data privacy change frequently, and it's important for you to know what specific laws and regulations apply to your organization. However, the European Union's General Data Protection Regulation (GDPR) is a good guide to consider your needs, as it is both stringent and well documented. Even if you're not subject to GDPR, it has a big influence on what people everywhere expect in terms of privacy. 
One of GDPR's principles is data minimization. Basically, system owners can only collect personal data that's necessary to achieve its intended purpose. 
Another key principle relates to ongoing use. You can only hang onto data if you have a defined and ongoing need for it. "Just in case we might want it sometime in the future," doesn't meet the threshold. Your visitors, or anyone else you gather data from, also has the right to withdraw consent from the original data submission at any time. You need to take all of these privacy considerations into your visitor management system planning. 
Luckily, reliable visitor management software will already have compliance and privacy practices embedded. You can deploy screening surveys with customized and limited questions, and build in a privacy statement and opt-in process. The end result is a consistent check-in process that respects visitors' privacy and helps you meet your regulatory obligations.  
Compliance rules engines help streamline operations and reduce risk and liability. When visitors and employees know their data is being safely protected, it'll deepen their trust and satisfaction with your organization. 
Show Your Visitors and Employees You're Catering to Them 
Your entrance gives a powerful first (and lasting) impression of your organization for both visitors and employees. Long lines, too many forms, and inconsistent treatment can tank your organization's reputation.  
A visitor management system will help organize and digitize processes, workflows, and reporting. In fact, you can even leverage the system to improve your experience, through brief questionnaires to gather visitor input.  
Ideally, your chosen system will have dashboards and ways to track visitor analytics. Over time, you can improve your processes and systems to provide a more personalized visitor experience that is based on what your customers and employees say they want.   
Find Trustworthy Visitor Management Solutions 
There is no need to limit your organization and the visitor experience with slow and cumbersome manual check-in processes. Visitor management software can help make visiting more efficient, secure, and accurate. With the right systems in place, you'll trust that you're doing everything you can to create a positive experience for employees and visitors.
We're here to help
Visitor Management is part of the Workplace Management solution [powered by CloudGate] and offers a flexible and integrated workplace management system (IWMS) that efficiently manages your space and automates your security, safety, compliance, and health processes.   
Let us help you operate more efficiently, reduce liability and risk, and foster a safe and healthy environment for employees, contractors, and visitors.
Disclaimer: By using the Blog section of this website ("Blog"), you agree to the terms of this Disclaimer, including but not limited to the terms of use  and our privacy policy. The information provided on this Blog is for information purposes only. Such information is not intended to provide advice on your specific security needs nor to provide legal advice. If you would like to speak to a Security representative about your specific security needs, please contact us.