Security Insights
Unplanned Absences: The Management Guide On Employee Attendance

Employee Unplanned Absences Matter
"Absence makes the heart grow stronger" isn't a term that's heard much within the business environment.  In todays stretched workplace, unplanned absences can be a serious and potentially tricky issue to manage.  However, all is not lost – there are ways to tackle it, but it must be addressed in a fair and consistent manner.
What is unplanned absenteeism? 
There are many valid reasons for absenteeism.  These include authorised holidays, compassionate leave, time off to care for dependants, paternity and maternity leave, as well as time off for jury service and trade union duties.  However, what is of concern is unplanned absence.  This can be caused by short or long-term sickness, including stress, or even 'duvet days' where employees simply choose not to attend work. 
What are the top causes of sickness absence? 
When it comes to absenteeism, most employers will know that absences come in all shapes and sizes and can last anything from days to years.  Whilst the number of people absent due to stress and mental health issues remains a major issue for employers, minor illness is still the most common cause of absenteeism in both short and long term scenarios.  According to the Chartered Institute of Personnel and Development, more than three-quarters (81%) of organisations reported that minor illnesses such as colds, flu, stomach upsets, headaches and migraines were the most common form of short-term absence within their organisation [1]. 
How does sickness absence affect companies?
According to FirstCare, which has the UK's largest database on absence covering 185,000 employees and recording more than 10.2 million absences, the average organisation loses approximately £609 per employee each year due to absence.
However, setting aside the obvious cost implications of sickness absence, such as statutory sick pay, occupational sick pay, paying overtime and temporary cover, unplanned absenteeism can also create a knock-on effect in the workplace.  It can cause disruption within a team, lead to mistakes being made if staff are having to cover other people's jobs and, if not handled correctly, can damage morale and negatively impact productivity.
How do I manage sickness absence?
Whilst some level of sickness absence is inevitable in any organisation, when it comes to dealing with sickness absence, having appropriate and clear policies and procedures in place can achieve positive results.  Not only will these help employees understand what standards are expected of them, but it also ensures that managers treat employees equally and deal with issues with a fair and consistent approach. 
In addition to complying with UK employment law regarding sickness absence, employers should have their own sickness absence policy.  This should outline a definition of long- and short-term sickness absence and a set of rules on acceptable reasons for absence. 
An absence policy should also include:
A sickness absence reporting procedure, such as how to report absences off work, i.e., by telephone or a sick leave email
When the employee needs a sick note 
Return to work discussions
How and when to return to work
How the employer keeps track of absence
Occupational health information
Sick pay information
However, when it comes to dealing with short or long-term absence, the best starting point is to monitor absences - if you don't know what you're dealing with, it's impossible to manage!  Implementing a Time and Attendance system can help employers to closely monitor staff attendance at work, addressing lateness and absenteeism.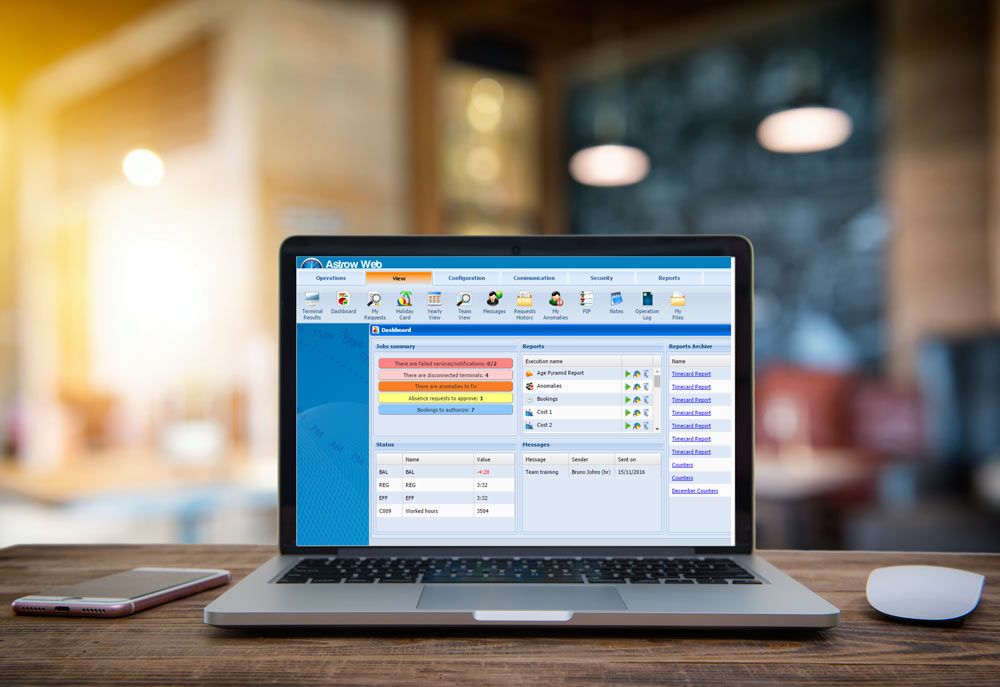 How to Track Employee Attendance? 
Time and Attendance systems automatically calculate employees' attendance hours, overtime, holidays and absences.  A basic system will include a terminal/readers and software.  The terminal/readers are used to capture the individual employee's clocking in/out data and are available in card or fob and biometric formats.  The software, which makes all the relevant calculations, is either placed on your computers or can be browser-based.
By far the greatest benefit of moving to a modern Time and Attendance system is accuracy.  Individual employee data is monitored and calculated in real time down to the second, enabling you to gain an accurate picture of attendance and absenteeism, even if staff work flexi-time. 
For companies with large numbers of employees, tracking attendance and monitoring absenteeism becomes more difficult, so here a Time and Attendance system is invaluable.  Securitas Technology's Professional and Enterprise solutions, for 50-100 and 100 plus employees respectively, provide a simple, cost-effective solution.  Absence requests are available at touchscreen terminals and, in the case of the Enterprise system, Workflows for absences' and updates' management are provided, with flexible validation hierarchies to reduce the load on your HR team and keep your staff and your management up-to-date by providing real time reports viewed via the web at any time.
However, smaller companies can also benefit from Time and Attendance systems, with our Starter system available from just £36 per month.
Ultimately, you cannot address a problem if you don't know it exists.  In the case of unplanned absences, deciding how to reduce sickness absence in the workplace is only possible if you know the extent of the problem.