Security Insights
What Does the Future Hold for AI Security Technologies?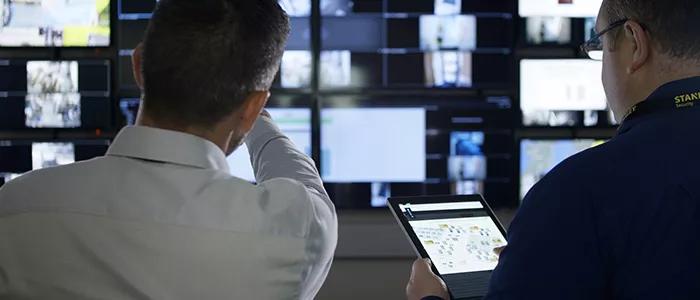 The global AI security market is expected to reach $14.18 billion by 2026, up from $5.08 billion in 2020. This significant increase in market interest is possible thanks to tremendous innovations in the security industry over the past decade. AI has enhanced health and safety measures through advanced monitoring and driven competitive advantage by providing actionable insights for operational improvement.
 
The business world is catching on. Next year, we anticipate security leaders will adopt AI-enabled technologies at a rate that rivals the research and development for such capabilities.
 
That's because edge technologies like advanced video and audio analytics – formerly a "nice to have" – have become mission critical. A wave of renewed security concerns has driven this development, alongside shifting expectations toward workplace security and efficiency. Security leaders increasingly seek technologies that (1) empower human technicians to work at the top of their abilities and (2) integrate with existing systems.
 
Let's discuss which technologies will receive the most attention and highest adoption rates in the coming year and beyond.
AI and the security industry as it stands today
We already see attitudes around AI changing as the concept becomes ubiquitous in the business world. Globally, 34% of enterprises have deployed AI-based solutions, and an additional 42% of organizations are exploring doing so, according to the IBM Global AI Adoption Index. 
 
Business leaders are even more keen to explore and implement AI to support their security measures. In fact, 66% of surveyed leaders reported that they would consider using AI, machine learning (ML) and advanced analytics to protect their people; 66% would consider these technologies to safeguard their assets; and 54% would consider leveraging them to harden their security network.
 
And as the internet of things (IoT) expands rapidly alongside continued device adoption, we anticipate these numbers will increase. Why? Interconnected neural networks and IoT expansion will usher in an era of unprecedented data. At this point, AI and ML will become paramount to understanding business operations.
 
Today, security leaders use AI technologies to parse complex data streams, often through AI-enabled video surveillance that traces anomalous movements and uses collected information to pre-process threats. For example, AI-enabled video surveillance systems can identify loitering or otherwise unusual behavior that suggests danger. The system flags such events to human technicians, who can expediently and proactively address the threat. Without AI, these concerning events might go unnoticed or take days to isolate among various video streams.
 
This technology is also used to mitigate false alarm occurrences. When a system identifies a possible threat, it can call upon pre-programmed stimuli or ML to assess the likelihood of actual danger. Say the system identifies a loitering person, but the individual in question is in a public thoroughfare that frequently sees slow-moving traffic. The system can vet the threat and determine it's likely a non-issue. We see this capability adopted often as a tool to reduce time-to-response in the case of actual threats and to help eliminate unnecessary emergency mobilization.
 
Other AI use cases parallel larger trends in the security industry. As access control solutions evolve to become more mobile, many security leaders have adopted AI to verify tripped alarms. In other cases, AI has intelligently monitored the movement and status of top-priority assets, including vaccines. The implications of these technologies go beyond immediate cost savings.
Cutting-edge technology use cases in security
Many security leaders remain unaware that their existing technologies hide a wealth of deep security- and operations-related insights. However, over the past year, we've seen several organizations adopt bleeding-edge AI technologies that harness the power of latent insights to drive operational efficiency.
 
Technologies that monitor and analyze a comprehensive security ecosystem can learn a lot about their operating environment. AI tech learns about standard facility exit and entry times via access control; employee and consumer behavior through video surveillance; and asset movement through real-time location systems (RTLS). Using this information, AI tech can understand what works for a facility and what may need improvement.
 
For instance, in a retail environment, AI technologies can assess optimal hours of operation based on when a store experiences the most entry. Or, it can even identify which departments require more or less staffing based on consumer movement. In a corporate environment, these same observations can be used to assess when energy-intensive systems, including lights and temperature, need to be adjusted. Business leaders can use information about optimal operating conditions to curb costs and more efficiently distribute limited labor resources.
 
Of course, data-based security insights are also imperative for strengthening health and safety protections. One promising example of this involves another technology with emerging security use cases: drones. Several factors influence whether drone activity should be considered suspicious, such as the drone's make, model and weight limit. Other environmental factors of interest include the drone's location and how long the drone has remained in the area. While collecting this information, AI technologies can synthesize a risk factor and present human technicians with a threat probability. 
 
The cohesive collection and presentation of data are critical here. Although AI security tech can make incredibly informed decisions about possible dangers, it's also capable of presenting complex data about threats simply, allowing human technicians to double-verify or make their own calls as needed. These data dashboards are a compelling selling point for leaders who thrive on data and may explain why AI security tech has taken off in recent years.
The future of AI and security tech
Security insights no longer live in silos. As enterprises digitally transform their processes, they invite a cohesive technological ecosystem that latently learns and presents information in an incredibly powerful way. And as IoT 2.0 approaches, those insights will become necessary to keep up with magnified data needs. 
 
Both trends explain why AI security technologies will accelerate in adoption in the years to come. For security leaders across all industries, the question is: When will "cutting-edge" technologies become necessary functions? And what providers will I trust to transform operation-wide processes to become more secure and intelligent?
Disclaimer: By using the Blog section of this website ("Blog"), you agree to the terms of this Disclaimer, including but not limited to the terms of use  and our privacy policy. The information provided on this Blog is for information purposes only. Such information is not intended to provide advice on your specific security needs nor to provide legal advice. If you would like to speak to a Security representative about your specific security needs, please contact us.