Small Business Security
Considering a Small Business Security System? Here's a Cheat Sheet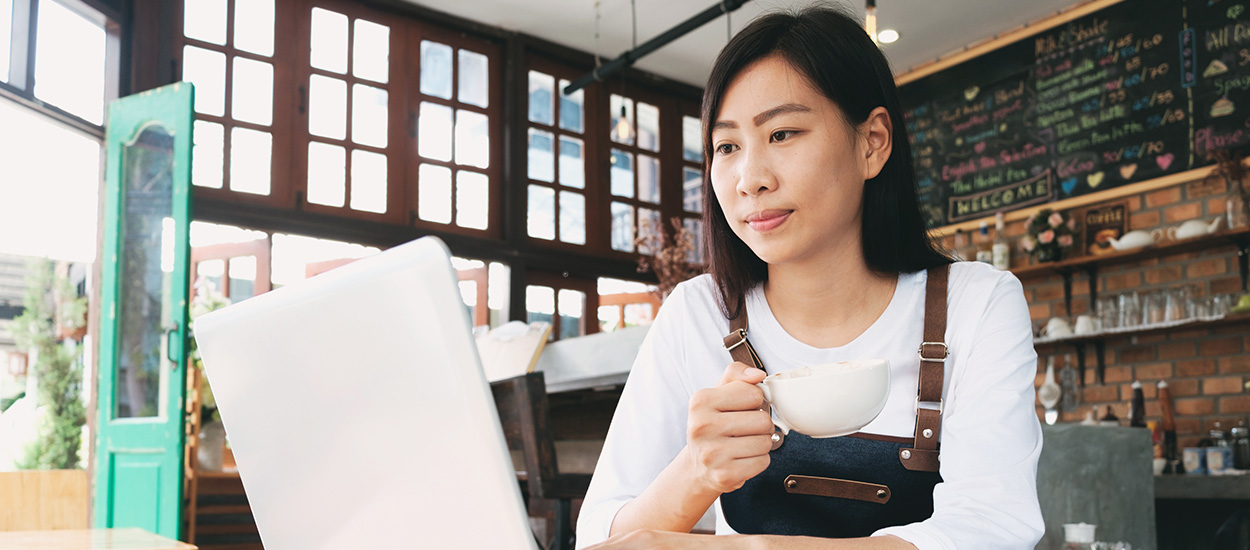 As a small business owner, you need a security system that provides more than an alarm or camera. You need one that offers peace of mind.
There are many options for securing your business – and evaluating them doesn't have to be time-consuming or stressful.
In this article, you'll learn:
Why you should invest in small business security
The best security solutions for small businesses
Who you should select to install your system
Let's dive in!
Why Invest in a Small Business Security System
Protect your people, property and assets.
Your business is your pride and joy – not to mention your livelihood. The last thing you want to do is risk that by failing to invest in the right security system.
Identify security trends to make better business decisions.
By reviewing security data, you can track customer activity, pinpoint safety concerns, identify opportunities to increase operational efficiencies and more.
Save time, money and resources.
Consider these three scenarios:
It's the middle of the night and you wake up in a panic because you forgot to arm your security system.
You're on vacation and you want to check in on your facility to see how it's operating while you're away.
You're watching the news and see that there has been a string of burglaries around your business.
With the right small business security system, you'll receive security alerts, you can arm and disarm your system, check video surveillance footage and monitor other security data – like open and close status – all from your mobile phone.
Get peace of mind knowing your business is secure while you're away.
When you invest in a small business security system, you'll be able to monitor your business anytime, anywhere – giving you peace of mind to enjoy your much-deserved time away.
The Best Security Solutions for Small Businesses
What's the best security system for a small business? That depends. To answer this question, let's break down and explore some different options that may be right for you.
1. Classic Security
A classic security system is made up of the contact sensors on your doors/windows, the motion sensors in the hallway or the glass break sensors pointing toward your main storefront window. It also includes a keypad where you arm and disarm your system.
Classic security systems are great for not only protecting your business, but also giving you insight into how your business is operating, which saves you time and money.
All of the sensors that are placed around your facility have the potential to tell you information about your business. Picking the right security system will unleash this ability. You can turn a classic security system into a tool that tells you how busy your business is, informs you of any unexpected events and automatically suggests and controls your system based on past history.
When you're looking into classic security systems and before you jump on the low-price ad that you got in the mail, make sure you have clear visibility into how these systems communicate and what type of control they give you.
Have you ever heard of the term "POTS" line – plain old telephone service? This was a nice term for the old phone line coming into your building. Some classic security systems still run on these, and that may be why they're priced so low. Remember, just as your personal life has moved toward cellular and internet communication, so have security systems.
Also, if you sign up for a low-cost deal using POTS line, you still have to pay the telephone company for keeping the POTS line active.
What are the other options?
Cellular and dual path (cellular + internet) are the best options for your system. They utilize existing infrastructure – such as your local internet network or the local cellular network – and can offer you higher levels of control with your smartphone, since they have a strong connection to the internet.
Also, with dual path, you have backup communication if one of the networks goes down, making it the best option for reliability.
Now that you have your classic security system communication path figured out, make sure you have the right technology to control your system.
The answer here is to make sure you have a mobile app that offers you the control you need, including the ability to arm/disarm, view audit trail, manage users, etc. You want to be able to control your system from your phone, look into how it's running while you're away and quickly manage access to your facility from anywhere.
2. Video Surveillance
Now that you've decided on the best classic security system for your needs, the next step for many small businesses is to move forward with a video surveillance system solution. Let's walk through the variety of video options that you'll find.
Standalone camera system: These systems can be found at a local electronics or wholesale store, and are sold by many security companies. They usually consist of a recording device (DVR) and a set of cameras. The recording devices allow you to record 24/7 video with your system.
The cameras usually connect directly to the recording device to provide power and to send the camera data from the camera to the recording device. Sometimes these systems will have a mobile application, or you may have to review your video footage locally on a screen.
Battery-powered cameras (usually do-it-yourself installations): There are many home video solutions that utilize batteries to simplify installation. These cameras satisfy a need, but be cautious about using them in your business.
Battery-powered cameras almost always utilize short clips that are triggered upon motion as a way to show you what has happened in the past. This can be OK for some people, but when you're trying to protect your business from theft, fraud and other issues, having a 24/7 recorded view is critical.
Integrated camera solution: These solutions contain recording devices and a set of cameras, usually utilizing your network to communicate video data and open a connection for you to have control over your system.
While similar to a standalone system with regard to its devices, there are two key differences:
They are connected to the internet, allowing new software updates, features and analytics to be easily pushed to the cameras to make them more functional.
They are tied into your classic security system, allowing you the simplest and most secure solution for your business.
You can now manage all your systems, including access to those systems, from a single application. In that same application you can see a security event and go right to the video associated with that event. This may be in the form of a clip for easy viewing or you may check a recording device that has 24/7 footage.
The integrated camera solution gives you the most flexibility, maximum control and the overall best experience for your business.
Who to select to install your small business security system
Now that you have a better idea of the type of security system and video system that will work best for you, how do you select the best installer?
First, don't view this as a one-time transaction. Select an installer that you feel will be in business for years to come. As your business and needs change and as you have questions about your system, you'll want to feel confident that your installation company will be there for you.
Second, find an installer that's transparent with you and that you feel you can trust over time. Ask the following questions to see if you receive answers that meet your business' current and future needs:
Do you offer a service plan that covers equipment and labor?
Do you have price escalations or price decreases over time?
Do you have flexible payment and contract options?
What happens once the term of the initial contract is over? Does it become month-to-month renewal? 12-month renewal?
Look for installers that have strong service plans, have customer-friendly contractual terms and offer transparent pricing so you can better understand what you're paying for. These will offer insights into your future relationship with the company, since the install is not a one-time transaction but rather, the beginning of a partnership to secure your business.
Finally, make sure you take some time to walk through the variety of classic security and video information presented here to better understand your options. Ensure that your installer can walk you through the options, so you know what security system will work best for your business security.
Ultimately, choosing the right small business security system can help provide the peace of mind you need as you grow your business. Find solutions that offer you flexibility and control, and select an installation partner that will take care of you over time with honesty and transparency.
Disclaimer: By using the Blog section of this website ("Blog"), you agree to the terms of this Disclaimer, including but not limited to the terms of use  and our privacy policy. The information provided on this Blog is for information purposes only. Such information is not intended to provide advice on your specific security needs nor to provide legal advice. If you would like to speak to a Security representative about your specific security needs, please contact us.