School Security
How K-12 School Security is Changing (and How it Isn't)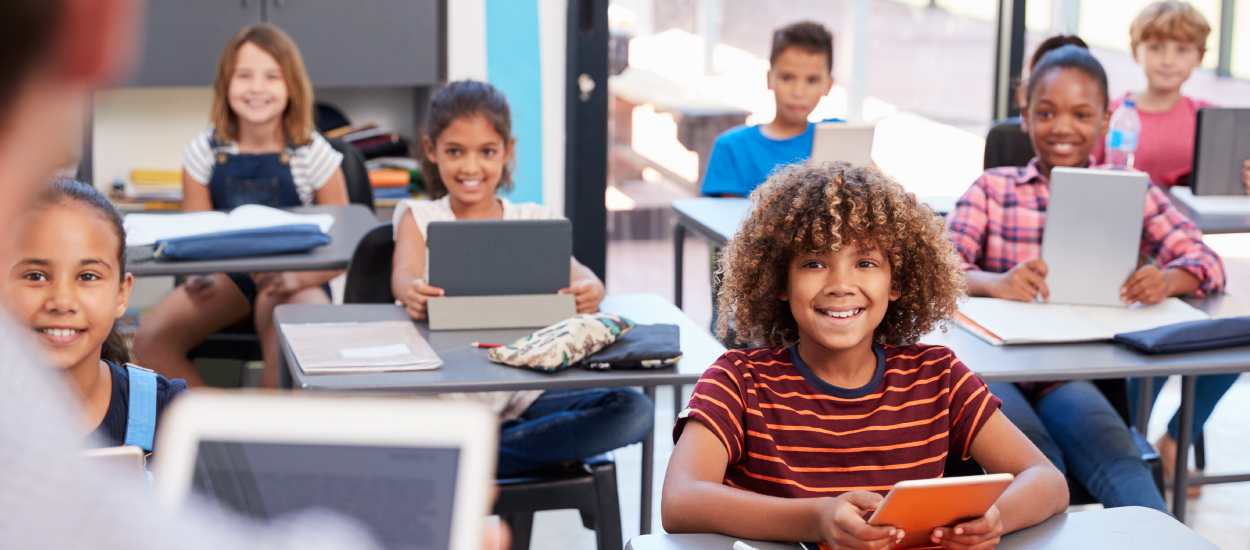 After any global crisis, there are updates to safety and security policies, procedures and strategies to mitigate risks and plan for similar emergencies in the future.
COVID-19 has been no different, and when it comes to education, security systems are playing a big part in helping to create safer, healthier environments for students, staff and visitors at K-12 schools.
Some aspects of K-12 school security have changed and some have remained the same. This blog will provide an overview of what school security looks like now, as a result of the impact COVID-19 has had on educational institutions.
Video Surveillance Solutions
How they've remained the same
Video surveillance has been and will continue to be a key component of K-12 school security. Prior to the pandemic, school security cameras were most often used for traditional documentation needs.
In an elementary education setting, for example, they could be used for lost and found or identifying who picked up and dropped off a child. In the high school setting, the same could be true, as well as determining what led to a skirmish in between classes or identifying a vandal.
While these uses will likely remain, the pandemic has increased the need – and expanded the function – of video surveillance solutions in K-12 schools.
How they're changing
The focus of video surveillance is no longer just on documenting incidents; it's also on providing schools with advanced capabilities to help create a safer, healthier environment.
Demand for video analytics is increasing, as K-12 schools look for new ways to leverage their existing systems to address today's challenges. For instance, some are looking to leverage video analytics as part of their contact tracing efforts.
Still, other schools are looking for ways to monitor and enforce occupancy limits, and are using people counting systems to help prevent large congregations in classrooms, auditoriums, cafeterias and the like.
Finally, many schools are implementing symptom screening measures to ensure students, staff and visitors are healthy before interacting with others on-site. One of the solutions that's grown in popularity is the human temperature screening device, which uses thermal cameras to detect elevated skin temperature. Some of these devices can even integrate with a school's other security systems, such as access control, to help automate processes and reinforce school policies and procedures.
Access Control Systems
How they've remained the same
The ability to grant (or deny) access to those entering a school building remains a key function of safety and security programs at K-12 schools – now more than ever. Access control systems allow schools to control not only who gets in the building(s), but who can access which areas – for instance, providing only certain staff members access to specific rooms.
Like video surveillance, access control systems offer an additional level of documentation, providing schools with audit trails and reports showing who was in which parts of the school and at what time. While the purpose of access control systems isn't likely to change anytime soon, the technology used to facilitate access is.
How they're changing
Traditionally, schools have used keypads, physical access cards or key fobs for entry to school buildings or specific areas within them. Now, however, mobile credentials are rising in popularity, allowing school staff to use their mobile device as their card access.
Not only does this touchless solution help promote a healthier environment (especially when migrating from keypads to mobile credentials), but it also allows schools to remotely assign and revoke credentials from virtually anywhere.
At the onset of the pandemic, it became clear very quickly that many organizations lacked remote capabilities within their security program. When staff and students were sent off-site, the ability to remotely manage who had access to the school premises became critically important. As schools have re-evaluated their security program, technologies such as mobile credentials have become an area of focus.
Emergency Security Solutions
How they've remained the same
Emergency communication and mass notification systems are key to ensuring school safety and security. K-12 schools are continuing to implement panic buttons, lockdown solutions, shooter detection systems and interoperable communication platforms to address ongoing security challenges.
How they're changing
Advancements in technology have led to the development of touchless screening solutions that allow schools and other organizations to increase security against concealed weapons and other threats.
These systems serve as a proactive measure to help K-12 schools prevent unwanted guns from entering the building – without causing long lines that could lead to close personal contact and congregation among students, staff and visitors.
As a father of two beautiful young daughters, school security is near and dear to my heart. The school security systems I mentioned in this blog are among the many available to help K-12 schools create a safer, healthier environment for everyone on-site. 
To learn more about K-12 school security systems, click the button below to get started.
Connect with a security expert
Disclaimer: By using the Blog section of this website ("Blog"), you agree to the terms of this Disclaimer, including but not limited to the terms of use and our privacy policy. The information provided on this Blog is for information purposes only. Such information is not intended to provide advice on your specific security needs nor to provide legal advice. If you would like to speak to a Security representative about your specific security needs, please contact us.