Case Study
Indianapolis Symphony Orchestra: Empowering Experiences Through Seamless Solutions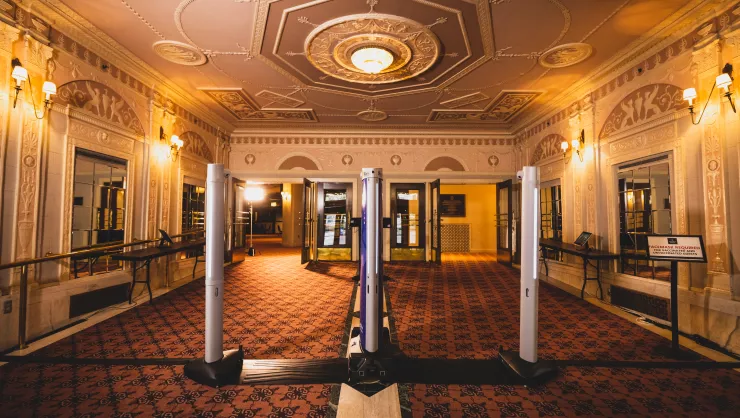 Introduction 
Since the Indianapolis Symphony Orchestra (ISO) was founded in 1930, it has grown into one of the nation's most renowned orchestras. In 1984, the ISO moved to downtown Indianapolis to its current home at the beautiful turn-of-the-century facility - the Circle Theatre. 
David Armstrong, Vice President of Operations for the ISO, says it's been part of not just the arts scene, but the Indianapolis community ever since. 
"The ISO is proud to call Indianapolis home, and I think Indianapolis is also proud to have the orchestra here," David said. 
James Johnson, Chief Executive Officer of the ISO, believes the orchestra is part of a partnership with the city. 
"We are so grateful that Indianapolis supports a first-class orchestra as it does for the ISO, and we never take that for granted," James said. "We know it is our responsibility to serve the community broadly and widely. We're preserving the tradition of music played throughout the ages. There's no experience like music for people." 
Built in 1913, the originally named Circle Theatre is a beautiful example of neoclassical style and holds 1,660 seats with space for an 87-member ensemble. Each year, the ISO puts on around 200 public events at the theatre and welcomes approximately 175,000 patrons. 
"For one of our most popular series, it's not uncommon to have sold out performances day after day, so in a single day, we could be welcoming 3,000 people," David said.  
"The patrons who come to the ISO are looking for a first-class experience above all," James said. "They want to make sure they're hearing great music in a great setting." 
Challenge 
Previously, the ISO relied on volunteer ushers to facilitate safety screenings with mags and wands, which caused slow-moving and inefficient lines of guests. 
"How can we increase and improve our security posture, but in a way that's welcoming to the community we serve," David said. "We take great pride in the Circle Theatre, and identifying a security solution that doesn't take away from that, that isn't bulky, is very important." 
The ISO aims to provide a remarkable and first-class experience for its patrons, and helping ensure a safe and secure environment is key to that. When evaluating safety and security technology options, ISO leadership had to find a solution that met the following criteria: 
Optimized efficiency by allowing guests to enter the theatre quickly 
Avoided a cumbersome and intrusive security process that required guests to divest items in pockets or coats 
Blended into the aesthetic of the beautiful and elegant theatre lobby 
Avoided physical alterations to the historical integrity of the interior of the building 
"We want people to feel safe and be focused on the experience and not be worried about safety," David said. "We want that to be an integrated part of their experience but not take away from that experience, so something we can bring them in comfortably without too much intrusion is important.' 
"Some of the systems are not what you would design for a 21st century building, but we are delighted by the character of the building," James said. "It really shows in the acoustics, which are exceptional for an orchestra. So we really don't want to change a thing when it comes to the layout and design of this building."  
The ISO has two entrances for guests to choose from: the main entrance right off of popular Monument Circle, and a back entrance that connects a parking garage to the theatre via an alleyway.  
"Implementing safety and security in this confined area presents challenges for us, so to do that in a way that we can expedite the process of getting people in and do it in a way that is not intrusive is really important," David said. 
On average, David said they can see about 60 percent of the audience arriving in the last 20 minutes before a show begins, which means trying to move about 1,000 people into the venue quickly and efficiently. 
"We don't want lines," he said. "We want folks to get in quickly and seamlessly, be safe, comfortable, relaxed and ready for the show. When we talk about what we do for our guests, we want to have an excellent performance on and off the stage. We want them to have a remarkable experience, and that's from every point along the way." 
Why Securitas Technology? 
One of the key reasons the ISO ultimately chose the organization now known as Securitas Technology is the collaboration and partnership throughout the process.
"Every venue is unique, and identifying a security solution is important," David said. "We ultimately, when identifying a solution, knew it was important to have a partner. Not just to have a partner to identify our physical requirements, but to have a partner that can understand what our performances are, who have been here, who understand what the Circle Theatre is and understands the importance of the ISO in the community is very important. For us, it's all about creating remarkable experiences. It sounds so simple, but it's so true. We want people to feel safe, so to have a partner that understands our needs, that really was the biggest thing. It was important to us to have this right fit for our venue." 
"This is a community-based institution," James said. "We're here to serve our community with great music and great experiences, and safety is a priority. This is about having fun, of course, but most of all, our audience wants to know they can feel safe and secure and not have a care in the world besides enjoying the orchestra. We love our partnership with [Securitas Technology], because it allows us to provide that assurance to our audience that they don't have to worry; that this is going to be a safe experience for them."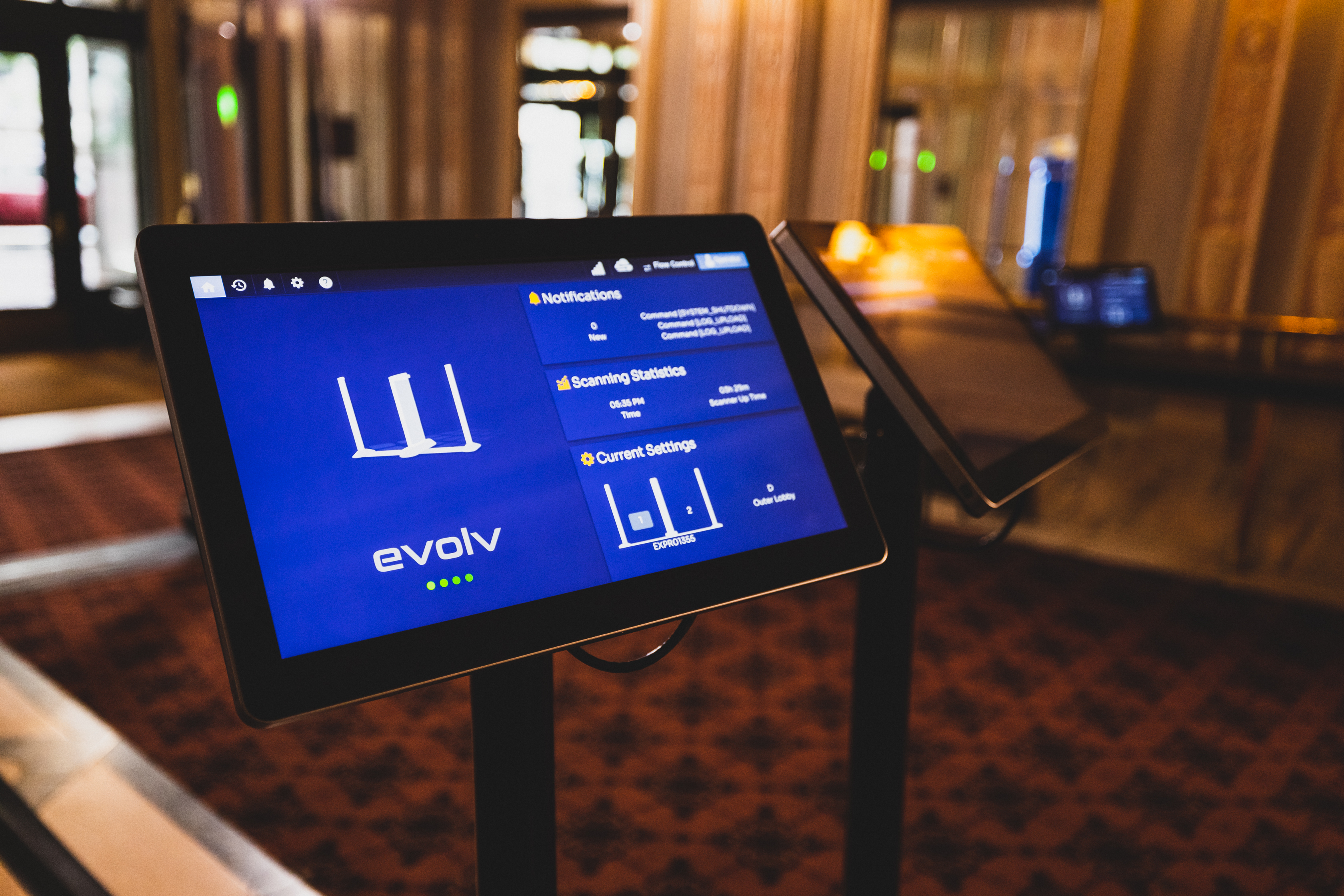 Solution 
After evaluating numerous vendors, the ISO ultimately decided to partner with Securitas Technology to implement Evolv Express®. 
Evolv Express® is a touchless security screening system and makes it possible for venues of all kinds to keep visitors safe from concealed weapons, pandemic health threats and intruders. Powered by the Evolv Cortex AI™ software platform, the system uses proprietary sensors and artificial intelligence (AI) to differentiate weapons from personal items in real-time.  
Evolv Express® keeps high-volume entrances flowing by reliably detecting guns and other weapons as people walk through naturally without emptying their pockets, bags, backpacks or other belongings. The system can screen more than 3,600 people per hour – 10 times faster than metal detectors. 
"Our patrons are first and foremost interested in the music, but they want their experience to be seamless that everything is taken care of, so our task is to make sure that a seamless experience does take place," James said. "A system like the Evolv Express, we know, will provide great peace of mind as they enter the facility. I think when our patrons are here this fall, they're going to be surprised as they may be familiar with systems that require you to empty your pockets, your coats, you may have to bring everything in a certain container. This is a system you simply walk through. You know it's there, and you want people to know it's a security system, but it is certainly not intrusive."  
Result 
"This is a perfect solution for the ISO," David said. "To have a local partner. To have someone we can call when we have questions was the icing on the cake when identifying this solution." 
"The expectation of our guests when they're coming to a performance is that screening is going to be part of it," David said. "They want to know it's a safe facility, so to have this available to guests to have peace of mind, but to do this in a way that isn't intrusive and moves quickly is so important. The opportunity to welcome people back into our facility is going to be pretty remarkable, but to welcome them back to a space with this safety and security infrastructure will be really special." 
Disclaimer: By using the Blog section of this website ("Blog"), you agree to the terms of this Disclaimer, including but not limited to the terms of use  and our privacy policy. The information provided on this Blog is for information purposes only. Such information is not intended to provide advice on your specific security needs nor to provide legal advice. If you would like to speak to a Security representative about your specific security needs, please contact us.