Business Security
Who Needs a Seat at the Table When Talking About Business Security?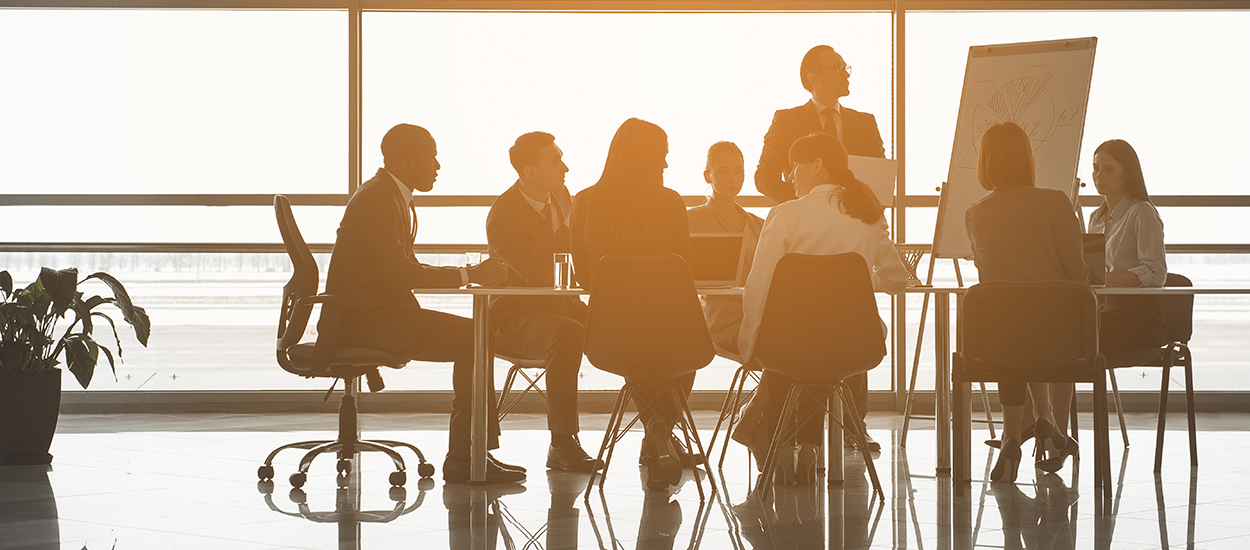 Perhaps you've had a recent business security threat develop or upgrading your facility's security has been a long time coming. Either way, defining a clear process (and following that process through project completion) will help ensure that you protect what's important to you.
Whether you're the head of security, building manager, facilities director, purchasing professional or even the CEO of your own business, involving multiple internal and external resources can help guarantee project success.
A business security solution will be utilized for years to come by many different people within the organization, which is why it's essential that you document all aspects of the project. Consider the following questions:
Who do I contact for service?

How do I update user lists?

How can I retrieve video footage or other data?

How can I access training?
These are all great questions – and excellent examples as to why you'll need to ensure your new security solution is well-documented and known within your organization.
Sometimes the desire to keep a new security project confidential can unfortunately lead you down the path of making decisions that don't benefit your organization in the long term. A rogue employee or an external threat could learn information that would help them attempt to defeat your new protection, right? It's only natural to want to keep details of your system on a need-to-know basis. Involving too many decision-makers or users of the system could also be perceived as slowing the process down.
While you don't want everyone to be involved in the project, it's important to include the right people so you can make an informed decision while still keeping your new system as secure and effective as possible.
So who should have a seat at the table when talking about security? Read through this blog post to learn more.
Information Technology Team
You could have an IT "department" of just one person. Perhaps you have a team of professionals spread across the globe. Maybe your IT team is a contracted technology services company or your own internal employees. Regardless of how your IT support is structured, involving them from the very beginning is key.
Most modern security solutions – whether you're looking at video surveillance, access control or intrusion/fire detection – will at some point come in contact with your data network. Your organization will most likely have data security specifications that your new hardware and software need to comply with.
Many organizations will have a standardized cable plant that could include everything from the brand of data jacks, cable types and especially network switches.
Your IT team will be able to ensure that your network can support the amount of bandwidth needed. Of course, a video system will require more bandwidth than an alarm panel, but different types of video systems have different requirements.
Will you need access to the system from outside of the company's network? Setting up a VPN or static IP address may be necessary.
You will also likely get questions surrounding who will be responsible for software or firmware updates. Will your desktop support team need to be trained on how to troubleshoot and support your users?
If IT is brought into the process early, they can help you head off future issues that could slow down the installation. When they're not included in the initial phases, you can experience a lot of turbulence, not to mention delays.
I've seen installations nearly completed before IT is contacted for the first time to gain remote access to the new system. Often, unplanned changes to the hardware, network setup or software solutions are required at that point. These expensive issues could have been avoided by involving IT professionals in the project from the beginning.
Maintenance Director
Who else knows more about your facilities than your maintenance staff? These individuals have a key to every door. They know where every pipe, conduit and duct are located. They can show you exactly where a burglar tried to gain access to the building, the last place you were vandalized or where the secret student vaping spot is.
A maintenance director is going to be able to help your security integrator find the best cable pathways. They're going to know the local code enforcers and can help facilitate permit approvals. They will be able to point out security threats that no one else may have even known about.
A maintenance team that is familiar with your security solutions will also be able to help identify when service is needed and could be a first step in resolving those issues.
Before you move forward with any security project, be sure to include this team. They will help you ensure you're installing an effective system with no glaring gaps in security.
Users
It may be common to involve your internal users when considering a video system. They are, after all, the ones who will be reviewing the recorded video.
But have you considered your users when planning an intrusion detection or access control system? How would that be helpful?
Your internal users will surely have an opinion on where the alarm keypad should be installed.
Which doors are more commonly used and need access control? Users will know this too.
Where should a panic button be installed, or how often do the business hours fluctuate? Just ask your internal users.
I recommend putting together a small team of users to help you answer these questions and more. Giving them ownership over these decisions will ensure the system is consistently used and is effective from day one.
Building and Planning Departments
Many municipalities consider security a life safety system, especially fire detection systems. They will require that you follow their local code, and often a permit and inspections will be required.
Even if your local authorities do not require permits or inspections, reaching out to your city planning department or fire marshal is a good idea. These individuals simply have a desire to make sure your employees, customers and property are safe.
I have found that proactively reaching out and asking for advice, or simply informing them of a project – even when not required – is met with much appreciation. The advice they give often comes from years of experience and can bring to light issues you may not have considered.
Business Security Integrator
Bringing a security integrator into the project is essential, but how early should they be brought in?
A trusted integrator should be involved from the beginning of a project. They can help you with identifying your security threats and will be able to identify what security systems you currently have and how the new solution will integrate with the existing.
You probably have a good idea of what your needs are, but an integrator can help you discover issues you're not aware of.
They will be eager to learn about your business and help you develop a plan that meets your needs. They can help you prepare questions to ask IT, maintenance and other teams involved in the project as well.
I recommend giving the integrator an overview of what your goals are and then asking for help developing the solution.
Walk away from any integrator that you feel is forcing their agenda or product on you. If an integrator is willing and eager to learn about all aspects of your business before making a recommendation, you will walk away with a better business security solution than if you had just chosen the "lowest bidder".
Most importantly, don't go at this alone. Involve the key decision-makers and stakeholders who will be able to support you through project completion and beyond.
partner with a security expert
Disclaimer: By using the Blog section of this website ("Blog"), you agree to the terms of this Disclaimer, including but not limited to the terms of use  and our privacy policy. The information provided on this Blog is for information purposes only. Such information is not intended to provide advice on your specific security needs nor to provide legal advice. If you would like to speak to a Security representative about your specific security needs, please contact us.