Video Surveillance + CCTV Systems
What to Look for in Business CCTV Systems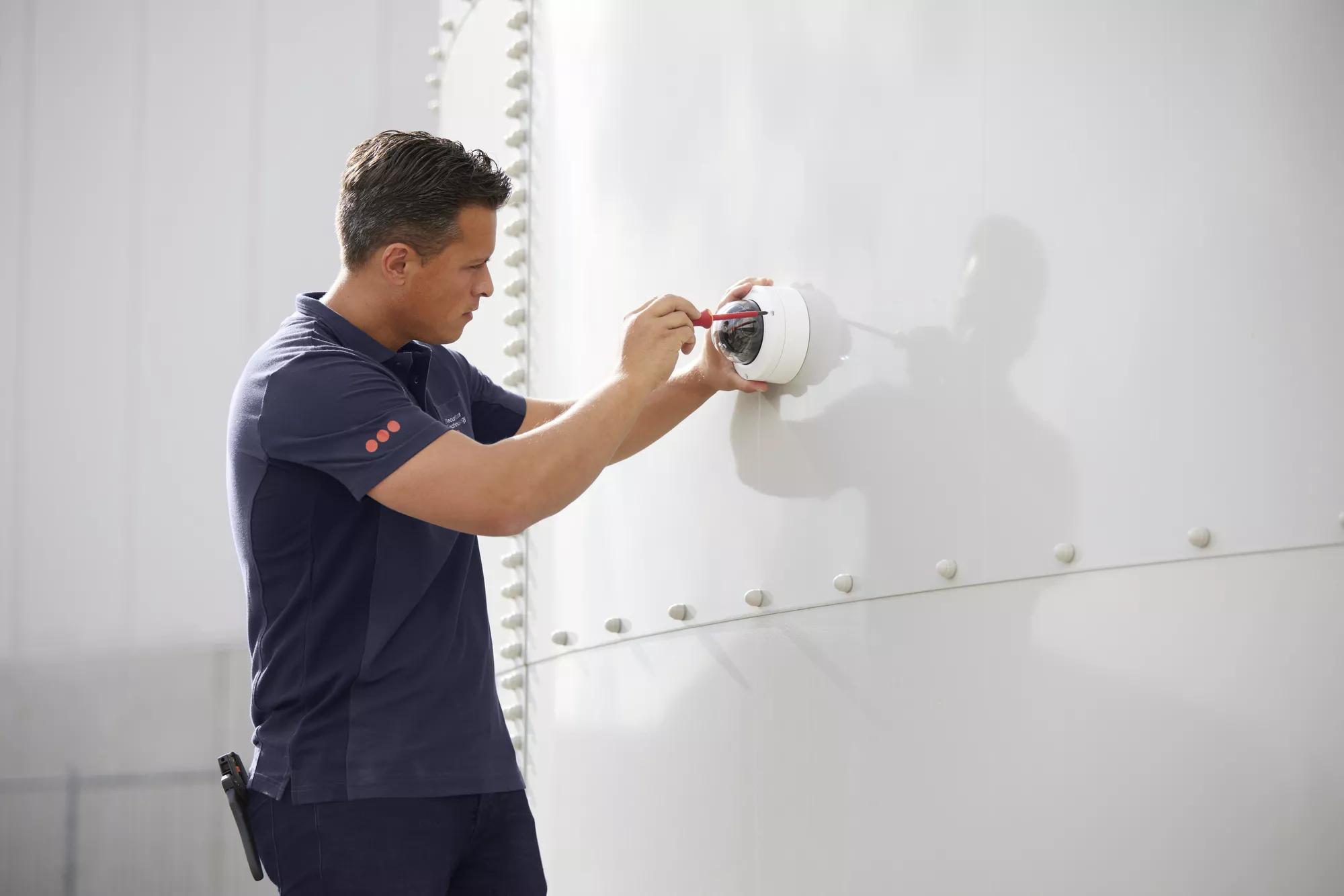 What Should You Look for in a Business CCTV System?
In 2023, the U.S. video surveillance market will be worth $63 billion, according to Statista. Infrastructure applications will make up 36 percent of the global product market. When you're choosing from different CCTV systems, it's easy to feel overwhelmed with the avalanche of options available in the market. Therefore, you need to establish guidelines to choose the system that will deliver the best value.
Size of US Video Surveillance Market in 2023
In 2023, the U.S. video surveillance market will be worth $63 billion
In 2023, infrastructure applications will make up 36% of the global product market
10 Critical Elements for your Business CCTV Camera Systems
Use the following criteria to evaluate your options and ensure your video surveillance system choice is the best option for your particular business.
1. Quality coverage
The quality of your CCTV security cameras could mean the difference between the status quo or life-threatening situations and losing thousands of dollars. Therefore, you can't skimp on coverage. According to the U.S. Department of Homeland Security, two ways to evaluate CCTV coverage are surveillance resolution and surveillance coverage index.
Surveillance resolution is how closely you can monitor a specific object with a CCTV camera, depending on the location of the object and the cameras.
The surveillance coverage index focuses more on the region rather than the object. The region can include a path, area, or a 3D space as a subset of the object space. You can specify the resolution threshold according to its application. For example, a resolution could be two pixels per centimeter for facial recognition.
Other criteria you should use to evaluate your CCTV camera system include:
Recording Capacity: Many components need to integrate and configure with other device settings. The way the camera captures the images will influence the amount of data the DVR can record and retain. Two important recording indicators are the frame/image size and the frame/images per second.
Frame/Image Size: This is the average size of each image as recorded. One of the determinants is the image resolution (in pixels or TV lines). The other is the amount and type of compression applied to the image or video sequence.
Frames/Images Per Second (fps and ips): The number of frames/images a camera records has a significant impact on the amount of data being generated. Some systems may be configured to record only when they detect activity. Other systems may provide continuous recording at a low image rate (e.g. 1 ips) until they detect activity. The system then records at a higher image rate (e.g. 12 ips) for a specified time period.
Recording Strategies: Organizations may want to customize the recording settings for various cameras. For example, you may want to set high recording rates for primary cameras to enable quality of movement.
2. Appropriate for your specific business
.When you choose your camera systems, decide between:
Fixed dome cameras. These cameras are compact and can fit inconspicuously into any setting. This type of camera is a popular choice for hotels, restaurants, and retail chains.
HD and megapixel network cameras. High-definition cameras have a standardized resolution of 720p or 1080p. A megapixel means one million pixels. This camera type refers to the size of the image. HD cameras are a form of megapixel camera. They help when you need to identify people or objects in a scene.
Pan-tilt-zoom (PTZ) cameras. These cameras offer a wide coverage area and are a good choice for larger facilities. You can physically move a PTZ camera from one location to another.
Fixed bullet cameras. This type of camera is shaped like a rifle bullet. They are high-resolution with de-warping technology that corrects distorted images.
Fixed network cameras. These are the most traditional cameras. Once they're mounted, they have a fixed viewing direction. They're best in situations where you want cameras to be noticeable.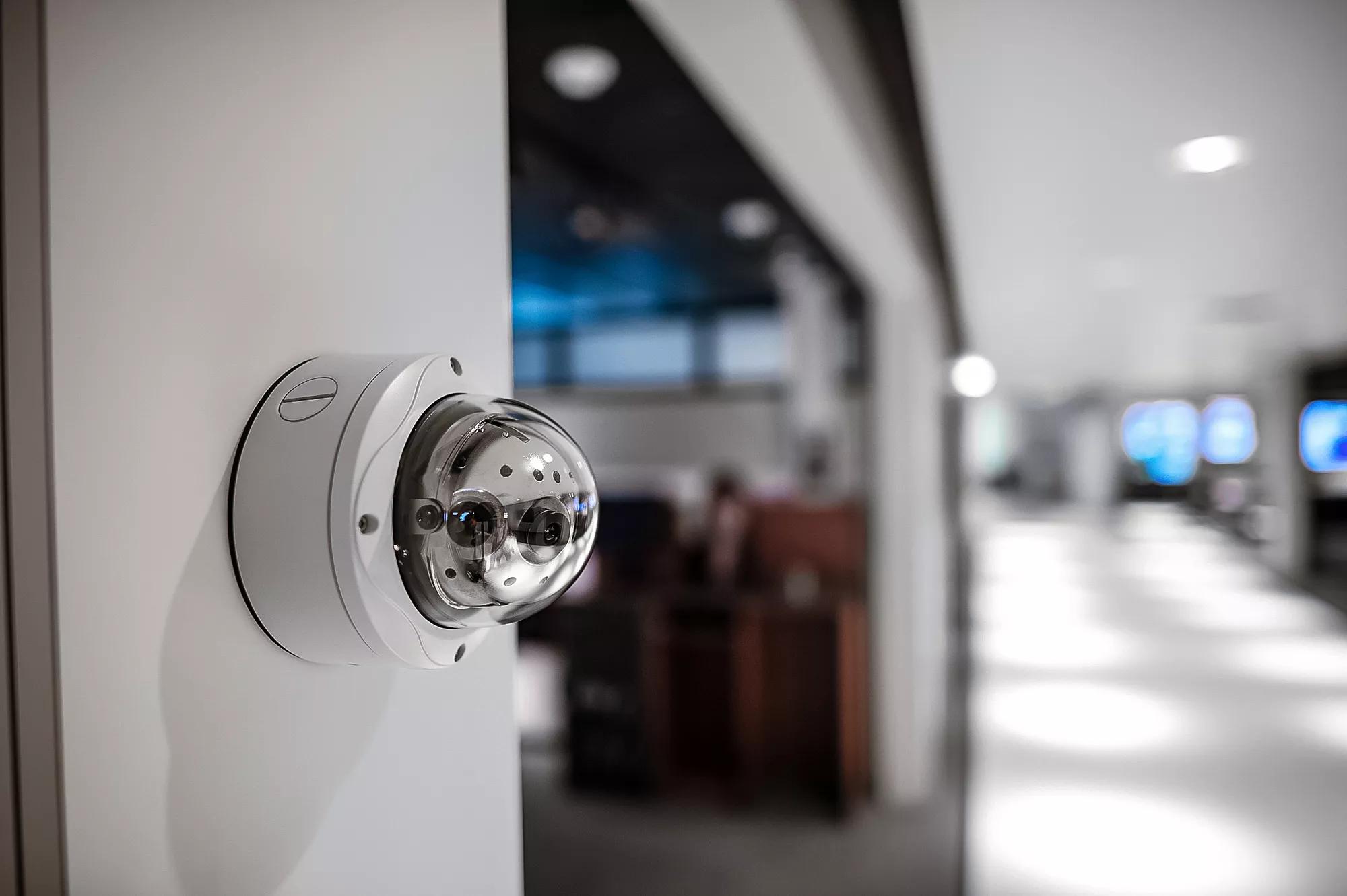 3. Cloud-based capabilities
Cloud-based video surveillance offers a wealth of benefits. Naturally, you reap the advantages of cloud technology like universal accessibility and less hardware. When you choose a SaaS system, it can update automatically and consistently.
Cloud-based camera systems also offer encrypted, off-site backup capabilities.  Even if a camera is damaged, your cloud data will remain secure. You're able to conduct remote troubleshooting, maintenance, and surveillance without physically visiting the site.
This can affect the quality and amount of video data that you can store on a DVR. If the compression is too aggressive and too many pixels are missing, faces or objects may not be recognizable. Users have to find a compression method that matches their needs, their environment, and the objects they're observing. First, you have to select the proper compression format, and then the resolution setting. System specialists will be able to gauge if there's enough hard drive space.
5. Analytics
Analytics display what exactly is going on in your business and help you plan your security strategy. A few valuable analytics categories are:
Motion detection
Audio detection
Tampering alarms
Object classification
Color detection
A system that can help you easily compile and share reports will be an asset in helping you make informed business decisions.
5. Scalability
Your business CCTV camera system has to match your organization's growth. For example, you may start with simple analog cameras and then decide you want IP-based ones.
However, you know the analog cameras still have useful qualities. Therefore, you want a system that lets you incorporate different camera types, storage, and monitors. It's key that you can integrate multiple solutions into one system to optimize its performance.
It's also important that the system can easily update its hardware and software.
6. Infrastructure
It's imperative that you plan how your new technology will co-exist or work with your existing systems. For example, you can convert old coaxial cable systems to IP systems by running Ethernet over coaxial cable with a converter module.
When you're planning to install a new CCTV security system, ask yourself these questions:
To what extent can the system use existing infrastructure?
How well can this system integrate with existing enterprise systems?
How well can this new system complement or integrate with other existing or planned access control systems?
How well can this system operate in parallel with existing systems and procedures?
Your new system's ability to integrate with your existing overall security will be a strong indicator of its effectiveness. When you add a new system, you should be able to operate it in parallel with existing systems until you phase out the old system.
7. Reliability and Maintainability
A demo or trial period is a good time to assess a new system's reliability. Reliability and maintainability mean how well the system performs over time and to what degree people can operate, maintain, and upgrade the system.
Other ways to gauge a CCTV surveillance system's performance are:
Speaking with security and management personnel in other organizations who've used the same system
Installing new equipment on a smaller scale
Running multiple trials simultaneously from different vendors
8. Cost-effectiveness
You need to anticipate the cost estimates of all aspects of a surveillance system's life cycle. These include:
Planning
Design
Installation
Operation
Maintenance
Personnel
Personnel costs include training programs. Also, you have to factor in hardware and software updates.
It's easy to let the latest features and models of new video systems dazzle you. However, you don't want to overpay for a solution. If you're not a large organization, you don't need 32 cameras. You may not need even more than one IP-based camera.
9. Camera Housing
These are key components of an effective CCTV security system. The design and procurement process will influence your housing choices. Other influential factors are:
Environmental conditions. These include operating temperatures and weather conditions, as well as humidity and corrosion.
Architectural considerations. When possible, you'll likely want to make choices that suit the aesthetics of your property.
Installation. Identify any special installation considerations and materials.
For example, fixed or PTZ cameras may require special housing to protect them from inclement weather or vandalism. Dome cameras need to have an exterior that can withstand extreme temperatures and not weaken when they're exposed to sun or ultraviolet radiation. If the camera material can't weather sunlight, it won't be suitable for outdoor use.
Impact-resistant housing often has optical surfaces of thick acrylic or polycarbonate plastic. These are particularly useful for high-crime areas or military sensor systems. Tamper-resistant housing is similar to impact-resistant housing but has additional protection. It's lockable and designed to resist cutting, hammering, or prying. Bullet-resistant housing has a window with at least one thick layer of polycarbonate material. These are also supposed to be impact-resistant.
10. Camera mounts
Mounts help surveillance systems deliver their most optimal performance. The camera mounting method can depend on application and performance requirements. Decide whether you need indoor or outdoor mounts or both.
A few different types of indoor mounts include:
Wall Mounts. This type of mount helps you adjust the camera's view or aim.
Pendant Mounts. You can use these to suspend the camera or equipment from the ceiling.
Corner Mounts. There are two types of corner mounts: inner and outer. Use these to attach a camera in a place when two walls meet at a right angle. These types of mounts are usually located near the ceiling.
Indoor dome camera mounts. You can sometimes mount these in highly visible areas to let occupants and intruders know that you have a security system in place. Install these carefully and account for potential vibrations from nearby air conditioning and other electromechanical equipment.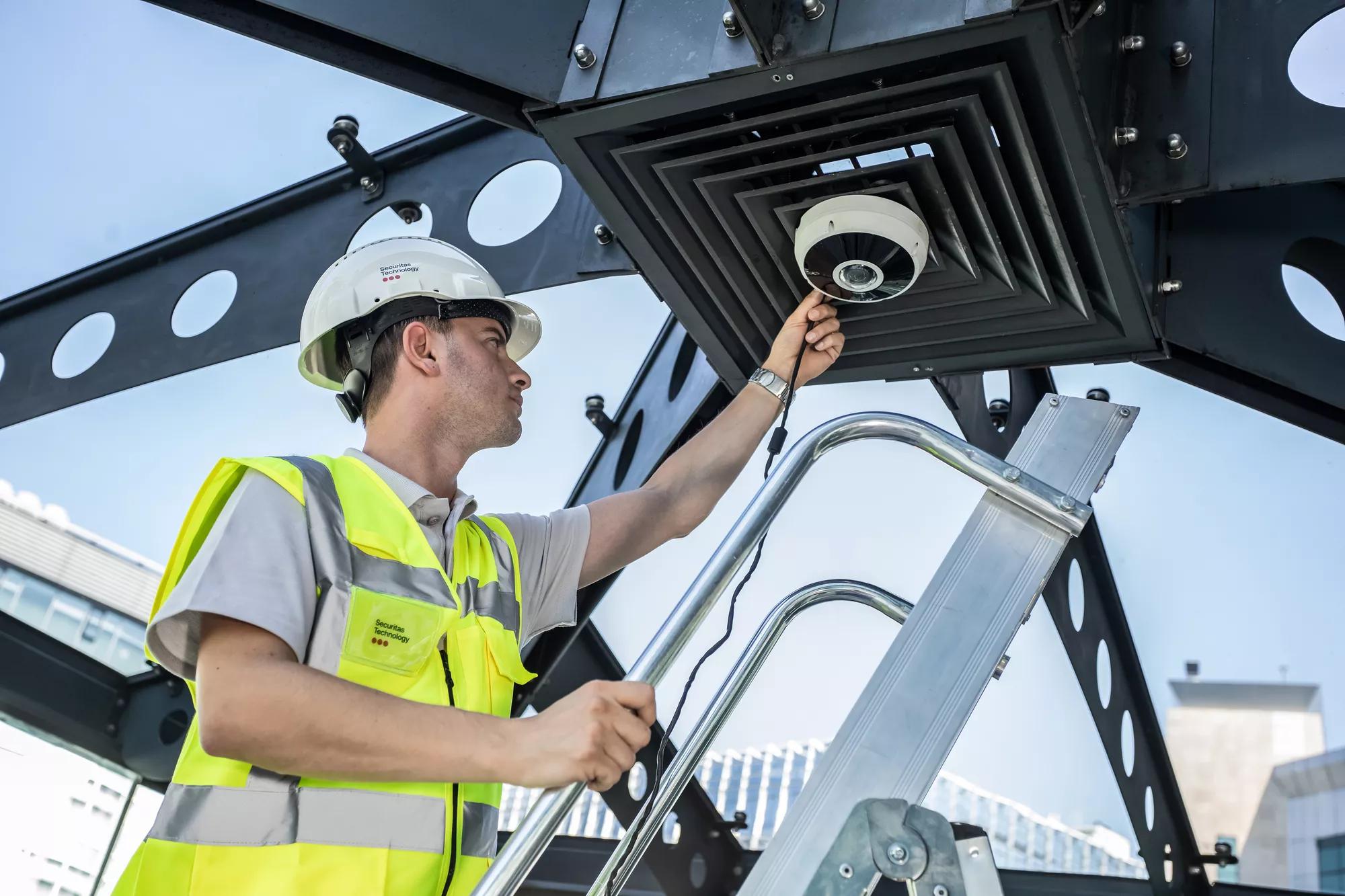 For outdoor mounts, they need to support and protect CCTV equipment against weather and other conditions. Avoid plastic fixtures because they can become brittle and deteriorate in the sunlight. Two types of outdoor mounts are pole mounts and corner mounts.
Use pole mounts to elevate your camera and provide an unimpeded Field of View (FOV). The poles need to be completely stable and ideally made of heavy-duty, galvanized metal. You should place the cameras high enough to prevent tampering and position them to get the best FOV.
Corner mounts are particularly useful for PTZ cameras that need a large viewing angle as they pan through an area. Watch out for air conditioning or other vibrating equipment. Corner brackets need to be secure and provide support for the cameras, as well as follow building codes.
A Strategy for Evaluating CCTV Security Systems
This may seem like a hefty list of requirements for your CCTV system. However, you shouldn't cut any corners when it comes to protecting your people, assets, and operations. By having clear standards for your CCTV surveillance system, you'll be able to find the most cost-effective, impactful solution for your specific organization.
Disclaimer: By using the Blog section of this website ("Blog"), you agree to the terms of this Disclaimer, including but not limited to the terms of use  and our privacy policy. The information provided on this Blog is for information purposes only. Such information is not intended to provide advice on your specific security needs nor to provide legal advice. If you would like to speak to a Security representative about your specific security needs, please contact us.