Business Security
What to Consider When Choosing the Best Business Security Systems

How to Choose the Best Business Security Systems
Every day, it seems like a new high-tech solution enters the security market promising more: more features, more power, more resolution, and more cameras. However, it doesn't mean that the newest system will be the best choice for your organization. You don't want to end up with a solution that is sitting dormant because you haven't been able— or don't know how— to maximize its potential.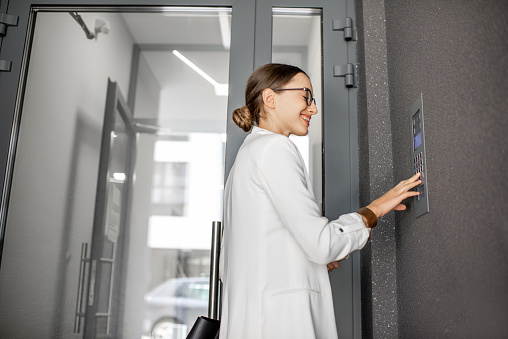 There are specific factors to weigh when you're narrowing down your choice for the best business security system. Ask yourself, your team, and potential solution providers the following questions when you're researching and sizing up options for business security systems. 
1. Will this new system perform at a level that's effective for our specific organization?
A corrections facility will have different integration requirements than a commercial office building. If your organization is distributed or following a hybrid model, you may need remote monitoring technologies. Additionally, you have to consider whether your current network bandwidth will support your new business security camera systems.
You'll want a system that will deliver the most advanced security possible to reduce risk and protect your people. Coverage capabilities should be a top priority. For example:
How closely can we monitor an object with a camera? 
How much coverage area do we need to surveil? 
Will we need to determine new recording strategies? 
Start with establishing technical requirements for your situation. This includes evaluating a potential video surveillance system's recording capacity needed to support the number and types of cameras you'll need to provide optimum coverage of your property.
Specific structural attributes for your devices will also play a role in how your system performs, such as considering a minidome or covert camera.
Also, investigate different camera housing types. If you want a more vandal-resistant exterior, look for one with at least one layer of polycarbonate material. Any camera, including a Pan-Tilt-Zoom camera that is used outdoors can use a certain enclosure to keep is safe from the environment.
To be a real asset to your small business or enterprise business, your system should also have capabilities that offer actionable intelligence for your organization. Establish a monitoring plan and screen for suspicious behavior and activities with features like:
Motion detection 
Audio detection 
Object classification 
Analytical and reporting capabilities will help you confirm what's working well, pinpoint any gaps, and develop proactive strategies. Not only will this address any security gaps, but it will also preserve business continuity. The best business security system will go beyond being a one-time investment to something that will deliver lasting value to your organization.
2. What will this new business security system cost?
It's tempting to buy into the latest gadgets and fall prey to Shiny Object Syndrome. However, you don't want to overreach for a solution with features that you may never use. You can avoid this by defining the criteria that will influence your business security system cost.
For example:
Will you need to monitor an entire floor or just a passageway?
Will your camera system supplement in-person security or will you solely rely on a system?
What cabling will you need?
How much technical support will you need?
Other factors will contribute to how much you'll need to spend. One is the type of business your company is in. According to CSO Online, industries that devote the highest share of their budget to security are financial services, professional services, and high technology.
Additional considerations are:
Regulatory and compliance requirements
The type of sensitive data and intellectual property your organization needs to protect
Your specific business initiatives for that year. For example, 40 percent of IT executives want to increase their cybersecurity protections
Cloud-based, SaaS business security solutions may offer a significant cost advantage. One of the primary advantages of cloud-based video is that there is a much lower cost because the storage is done in the cloud and not on local servers.
3. Will this business security system adjust as our business grows?
Look for systems that will grow along with your business. For example, you may have analog cameras now, but you might want to add IP-based video surveillance so you can add analytics capabilities to have additional insights into your operations. You'll need systems that can grow as you to to integrate different technologies to protect your business as your needs change.
Prioritizing scalable systems helps you avoid unnecessary system upgrades and maintenance of commercial security system. One way to plan for growth is to select on-premise video recording hardware that can fully support additional cameras, new analytics, and integrations.   
Another option is to utilize a cloud-based video system that enables easy expansion based on future needs and advanced in technology. Since cloud-based video systems use mobile apps and browsers to view live and recorded video as well as share when needed, it'll be easier for others across your organization to find value in what is traditionally thought of only for physical security.  
4. Will this new solution work with our current tech stack?
You probably don't want to immediately throw out all of your old systems to incorporate a new one. However, integrations can be delicate, complex operations and require careful planning.  
According to the Department of Homeland Security, elements you'll need to consider and include when integrating are:  
Components 
Software applications 
Inputs and outputs 
Transmission structure 
Processing and storage devices 
Interoperability across devices 
Let's revisit the correctional facilities example. Integrating technology within this type of environment is challenging because: 
There are highly complex systems and monitoring centers across multiple facilities.  
The systems are deeply networked and may have layers of legacy, outdated technology.  
Corrections' security requirements are always evolving.   
This is just one instance where there's little room for error when you're updating technology, upgrading network infrastructure, and integrating new and old systems. You also have to factor in other security systems that your intended system will need to co-exist with, whether it's fire detection or access control.  
Choosing a highly experienced business security solutions provider can help you avoid integration problems. They should have a demonstrated track record of success performing security integrations in your specific industry. Professional installers will know how to work closely with you to plan every detail of a new system, install it, manage it, and maintain it. Make sure they're available for troubleshooting at any time as well.
5. Given our evolving world, what is the best security system for business?
Security has dramatically changed in the past couple of years. There's been a much greater need to monitor personnel, facilities, networks, and data remotely, even if your workforce isn't returning on-site anytime soon.
When they do return, organizations may perform:
Health checks
Contact tracing 
Management of how to get in and out of a building 
Management of occupancy 
Touchless, mobile-first, and visitor management technology will be in much more demand. Artificial intelligence will be part of more business security camera systems. Cameras need to handle increasing data and file sizes. Therefore, your choice of smart security systems has to make sense in the context of today's problems.
What about tomorrow's problems? Physical security and IT leaders are demanding more unified systems. Half reported that the threats they received in 2021 could have been avoided with unified cyber and physical security, says research from the Ontic Center.
Systems that co-exist, but are disparate affect functionality and security. The technology may break, be hard to manage, become obsolete, or become costly to remain over time. You may end up with a bunch of disconnected components that don't talk to each other. Multiple devices may reduce the singular effectiveness of one of them.
This doesn't help if you want to elevate or add more to your system. Therefore, the system you choose needs to be nimble enough to deliver encompassing, effective security.
Hone in on the specific impacts to your organization
Performance, cost, and agility are some of the important criteria when you're evaluating the best business security system. However, interoperability and longevity should be top-tier requirements as well.
The best business security systems can do so much more than capture footage and fulfill short-term needs. They will play a vital role in ensuring the well-being of your people and helping your organization flourish.  
Disclaimer: By using the Blog section of this website ("Blog"), you agree to the terms of this Disclaimer, including but not limited to the terms of use  and our privacy policy. The information provided on this Blog is for information purposes only. Such information is not intended to provide advice on your specific security needs nor to provide legal advice. If you would like to speak to a Security representative about your specific security needs, please contact us.