Prison Security Systems
Correctional Security Trends to Watch This Year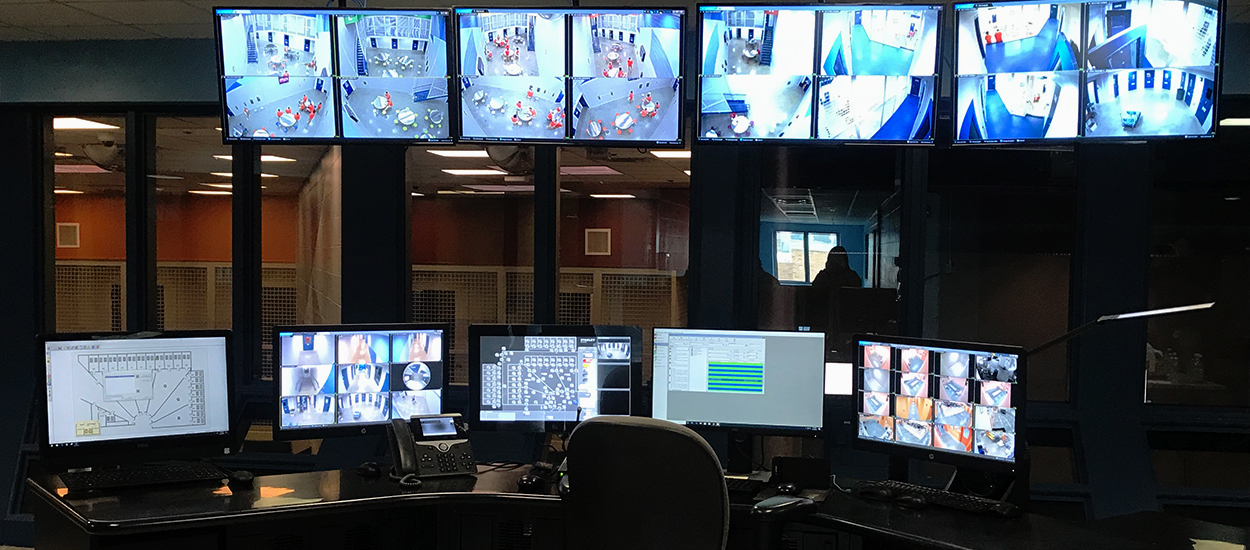 Technology plays an important role in creating a secure and safe environment for inmates, staff and visitors in jails and prisons.
While correctional facilities have traditionally been slow to embrace new technology, this is beginning to change, as new security challenges are requiring these facilities to adopt different correctional security strategies.
Like other organizations and businesses, correctional facilities are becoming more connected – both internally and externally – which presents many benefits as well as new challenges. In the past, correctional security systems were isolated from all other networks, but cloud technology and the desire to monitor systems remotely has made outside connections a necessity.
As the corrections industry continues to evolve, we'll see facilities focusing more on network security, security as a service, remote services and integrated video surveillance systems in 2020 and beyond.
Continue reading for more details on how these trends are shaping security programs within correctional facilities.
Network Security
The isolated nature of security systems of the past has lulled many correctional facilities into a false sense of security. Isolated and offline systems aren't necessarily immune from all cyber threats.
Additionally, as security systems within correctional facilities become more connected and integrated, it's critical to ensure your network is protected from cyber threats.
Corrections officers, sheriffs and other security personnel must have an understanding of what types of devices are on their system and how they communicate to be able to fully address any vulnerabilities that may exist.
Today, building control, inmate communications and employee records may share some of the same IT infrastructure as security systems. It's imperative that there is coordination among all of the connected systems to ensure all the proper firewalls and protection are in place.
Security as a Service
As prisons become more crowded and understaffing remains a major operational concern, many facilities are searching for a correctional security partner that can help manage their security program.
"Security as a service" is a subscription service model that allows a security provider to take over managing the administrative and maintenance components of a facility's or an organization's security program. It leverages cloud technology, staff on-demand and other services and technologies to deliver a comprehensive set of security benefits – often without a facility needing to make an upfront investment in products, staff and training.
For a correctional facility, this might mean hiring a security professional as an embedded technician or project manager – meaning they're employed by a security provider but work full time as a dedicated resource for the facility.
This can save the facility time, money and hassle, as it can significantly reduce the need for regular service calls to a security provider and drives greater efficiencies when it comes to managing a robust – and often complex – security program.
Remote Services
As previously mentioned, the increased connectivity of correctional facilities presents many benefits, including the opportunity to use remote services.
Remote services create efficiencies for both security providers as well as correctional facilities. Using some of the same connected tools, facilities can remotely manage and securely access both their account information as well as their security systems.
Additionally, new technology allows security providers to gain access and remotely serve facilities, providing ease of use, faster response times and reduced costs and hassle. This can enhance the customer experience by providing efficient and effective support without the disruption of an on-site service visit.
More correctional facilities have begun to seek remote services offerings over the past year, and we'll continue to see this trend in 2020.
Integrated Video Surveillance Systems
Drugs, drones and phones are three growing threats to every correctional facility. The use of video surveillance systems in conjunction with other technologies can help detect and deter these activities. Pan-tilt-zoom cameras – or PTZ cameras – paired with radar and radio frequency (RF) drone detection is becoming a viable and cost-effective option for correctional facilities of all sizes.
Additionally, video surveillance systems are being used more and more for training purposes and to drive operational efficiencies. Video surveillance systems in correctional facilities aid in contraband and drone detection and also serve as a tool to better predict possible security threats and allow more time for the staff to react.
Throughout the 2020s, we'll continue to see these four trends – along with new solutions, challenges and opportunities – impacting correctional facilities of all sizes.
The connected correctional facility is here to stay, and the management of these new security risks is critical to ensuring the safety of inmates, staff and visitors.
Disclaimer: By using the Blog section of this website ("Blog"), you agree to the terms of this Disclaimer, including but not limited to the terms of use  and our privacy policy. The information provided on this Blog is for information purposes only. Such information is not intended to provide advice on your specific security needs nor to provide legal advice. If you would like to speak to a Security representative about your specific security needs, please contact us.