Article
Security Integration: A Path to Unlock Business Opportunities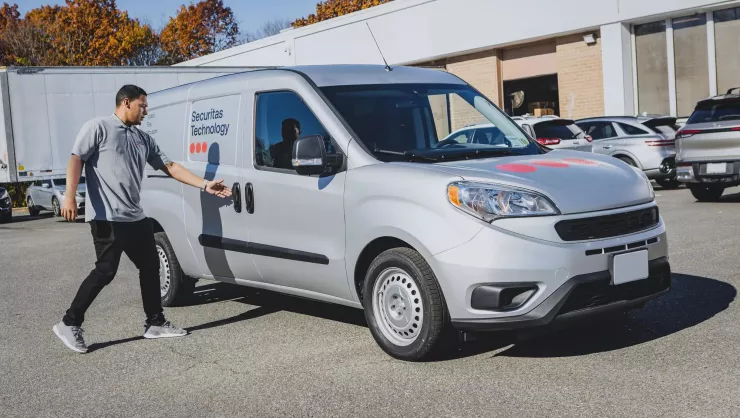 In a pandemic-conscious world, businesses need solutions that keep employees safer and healthier, reduce business disruptions and the number of outside providers they need to juggle — reducing oversight and providing the peace of mind necessary to focus on building ROI throughout the business.
Security Integration: A Path to Unlock Business Opportunities
Once upon a time, security meant putting a lock on your door. But, as with all fairy tales, reality—especially today's reality—is quite different. 
Even the meaning of "security" is different, going beyond safeguarding assets to also protecting people, securing networks, and managing operations. New technologies are constantly being added to the mix. To remote monitoring, add access control, contact tracing, emergency communications, thermal perimeter detection, advanced system monitoring, personnel temperature screening, and more. Your job is to figure out which of these technologies should belong in your security solution.
If you're like many organizations, you're trying to expand your security footprint without increasing net security costs. As if that weren't enough, many companies now expect something from security that they never asked for before: a return on investment. They're looking for solutions that keep employees safer and—in a pandemic-conscious world—healthier. They want solutions that reduce business disruptions while simultaneously reducing the number of outside providers they need to juggle. Such solutions reduce the need for oversight and provide the peace of mind needed to focus on building ROI throughout the business. Given that business budgets have tightened in recent years, you're now likely challenged to accomplish all this without the additional resources that would seem to be necessary.
Unified security: The way to have it all
Fortunately, farsighted companies are finding a way to have it all. They can build and maintain broader, more complex security systems that nonetheless require less of their management time, money, and energy. How? By approaching security as a unified whole, as opposed to discrete silos. These companies don't acquire separate systems (e.g., security access, fire alarm) and then consider their integration. Instead, they look at their goals (safeguarding premises, protecting employees, securing the network) and then consider the collection of systems needed to achieve them. 
With this unified approach, businesses can refocus on ways to reduce employee churn, boost manufacturing efficiency, identify new revenue streams—whatever their business goals require. There's also a reputational benefit to all this, too. Managers and executives who lead this effort can show their organizations how security not only can help keep a business secure, but it also can contribute to a healthier, more efficient, and more profitable business.
These companies recognize that their disparate security solutions have a common element—data—and that integrating that data across security systems makes it immensely more valuable to them. Even better, the data that flows from security systems can be integrated with other systems in the organization to address needs such as inventory management and manufacturing processes. Data integration is the lifeblood of the organization, moving wherever it's needed within the enterprise to enable new and better solutions. Most companies haven't traditionally thought of their security systems as providers of data. It's time they did so. 
Finding a customer-first security partner 
Security directors and IT leaders face a growing number of technologies and systems, so they should look for customer-first security partners that seek to solve their needs holistically, not as one-off solutions. They should seek partners that are also highly trained experts who understand how to integrate data types to yield highly innovative solutions. These partners should also be able to provide guidance on how both security and non-security departments throughout a company can best use that data. 
However, there are things to look out for in your search. For instance, partners that look to lock you into their security platform. The best security companies should be able to integrate your existing equipment—from any brand operating in any environment—thus making the process less expensive and disruptive. This integration across product brands gives you more options for scalability as you face the challenges of supporting organic business growth or the integration of acquisitions that may have their own security platforms.
Furthermore, this willingness and ability to bring third-party components into your solution when it's the best solution for you are signs that your security provider is a customer-first company. Look for a security partner who takes the time to understand your needs and challenges, and uses that time and information to develop a custom solution that addresses them. Run from the alternative: an advisor with a one-size-fits-all platform of its own technologies.
Securitas Technology: The open, flexible security provider in action
What does an open, flexible, customer-first security provider look like? At Securitas Technology, we offer security technologies that work well with each other, as well as with third-party technologies. Our offerings include access control, remote monitoring, visitor management, CCTV with thermal cameras, fire detection alarms, intruder alarms, site occupancy management, and panic alarms. 
We're market leaders in integration; it's been our core business for 30 years. That expertise helps us to adapt to small businesses and large enterprises, and to an array of customer demands. We listen to customer's ambitions and needs, and we help them plan to integrate existing solutions or introduce new ones. 
We work with the customer's brand preferences and have highly specialized and trained multidisciplinary experts on staff, making us an ideal partner for all of a company's security needs. Relying on our customer-first emphasis and data integration experience, customers can use our solutions not just for traditional security, but to develop data insights to reprioritize labor deployments, understand and address manufacturing bottlenecks, enhance workplace safety, automate workflows, and much more. 
​For example, with a video/CCTV security protection system that consists of cameras and recording technology, you can view security video live or on demand. But when we integrate that system with a remote guarding solution, our customers can reduce the costs of on-site guards. Similarly, when we integrate a fire detection system with a video/CCTV system and remote monitoring, customers can reduce the number of false alarms, thereby reducing costs and increasing production time on the factory floor, in the office, or whatever facilities a company chooses to monitor. At the same time, customers can speed intervention in response to real alarms, reducing potential on-site damages. And whether our customers disregard false alarms or respond faster to real ones, they gain greater peace of mind along with all the other benefits.
Process automation provides another example of the benefits of integration. Today's access systems enable contactless entry via smartphones and optometric recognition, minimizing human contact with doors. We can integrate these systems with visitor and workflow management systems, turning access control into a powerful tool for enhancing business efficiency. For example, our customers can automate visitor check-in processes by pre-registering people and granting them mobile credentials even before they arrive on site. It's a great way to minimize lobby bottlenecks.
Are You Ready to See the Benefits of Integrated Security?
That's what Securitas Technology does for customers today. We've also developed an ecosystem of security solutions that integrates hardware and software in new ways to leverage artificial intelligence and machine learning. 
Of today's business leaders, 46% are thinking about adopting an integrated system within the next 18 months. Should you be one of them? If you're interested in learning how to optimize your business with integrated security solutions and create healthier, safer, and more efficient environments for all, speak with one of our expert advisors.