Case Study
Helping packaging manufacturer with workplace safety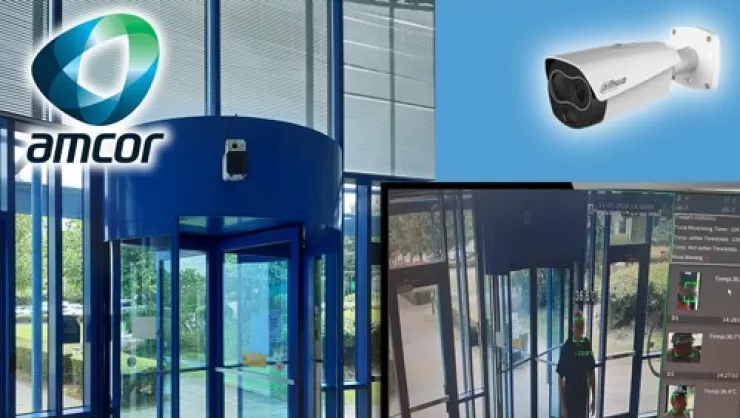 Thermal temperature monitoring - an essential service for the new normal
For Amcor, implementing a raft of additional, COVID-19 specific safety measures was essential to ensure the safety of staff and visitors and to prevent any possible contamination of the packaging products being produced on-site.
Amcor is a global leader in developing and producing flexible and rigid packaging for food, beverage, pharmaceutical, medical, home, and personal care, and other products.  The company is focused on making responsible packaging that is increasingly light-weight, recyclable, and reusable, and made using a rising amount of recycled content.
A global company, Amcor has 250 sites across more than 40 countries and employs 50,000 people. 
The Requirement
As a key manufacturer of pharmaceutical and medical packaging, Amcor Flexibles Winterbourne, based in the UK, has a workforce that has been designated as key workers in the COVID-19 pandemic.  Its packaging is used with a wide range of medical equipment, including ventilators, so remaining open for business and working at full capacity during the lockdown was – and continues to be – vital.
With the spread of COVID-19 across the UK in 2020, Amcor took immediate steps to not only meet government guidelines but supersede them.  The company was in a good position to do so as safety is ingrained in Amcor's ethos, be it in how colleagues and partners go about their work, to the way its packaging protects products and people.  In the workplace, it has a simple safety objective: no injuries. On top of site-specific safety programs, Amcor is focused on preventing hand injuries, eliminating risks that can lead to serious injuries or fatalities, and further strengthening the safety culture across the company.
The Solution
For Amcor, implementing a raft of additional, COVID-19 specific safety measures was essential to ensure the safety of staff and visitors and to prevent any possible contamination of the packaging products being produced on-site.
The company increased its cleaning resource by an additional 30% and instigated deep cleans in high contact areas such as staff canteens.  One way systems have been introduced throughout every part of the Bristol site, including designating stairs up or down only. Strict social distancing measures have been put in place.  Delivery points have been set up to reduce possible contact from outside sources, along with a dedicated toilet facility for those delivering to the site.
The most recent addition to these safety measures has been the introduction of a wall-mounted Thermal Temperature Monitoring Solution in the reception area, installed by Securitas Technology.  As an existing customer, Securitas Technology was familiar with the Amcor site in Bristol, having installed CCTV and access control systems there previously. 
Amcor wanted a temperature monitoring solution that could be used to detect elevated temperatures of anyone entering the main reception area, be it staff, visitors, or delivery people, without putting reception staff in any danger.  Whilst a raised temperature is not necessarily an indication of illness, and many people with the COVID-19 virus are asymptomatic, monitoring temperatures of people arriving on-site is one extra measure to help protect against the spread of the virus. 
Securitas Technology provided Amcor with an automated Thermal Temperature Monitoring Solution, featuring a wall-mounted hybrid thermal network camera, a blackbody calibration device, and an NVR.  The contactless, non-invasive system can monitor temperatures within large groups of people at a distance, reducing manpower requirements and improving personnel safety.
The hybrid technology within the camera combines both thermal and visible light sensors into an integrated package. The thermal sensor provides temperature monitoring, and the visible light sensor provides visual identification; both streams are fed into the NVR for synchronized recording and playback.
The blackbody device provides a constant reference temperature in view of the thermal camera, for accurate temperature monitoring during continuous operation. This prevents changes in the ambient temperature – such as air conditioning being activated – from affecting the system's accuracy.
When a person with an elevated temperature is detected by the system, an alert is raised which is then acted upon by reception staff during office hours or security staff out of hours.  Amcor has a clear policy for dealing with this situation, which differs depending on the nature of the visitor.  If it's a delivery person, they will be advised of their elevated temperature and the items they have delivered will be sanitised.  For a member of staff, they will be directed to an isolation point where a secondary temperature check will be conducted and they will be sensitively asked if there is a known reason for their elevated temperature.  If the reason is unknown, they will be asked to leave the premises and register for a COVID-19 test.  As key workers, they are usually seen and tested within three hours.
For Amcor Flexibles Wintebourne's Operations Manager, Shaun Golding, the system has proven very straightforward to use and is a valuable addition to the raft of measures the company has in place to protect its staff from COVID-19. 
"So far we've only had one person who was detected with an elevated temperature and was sent for a test.  But that single person could have come into contact with five or six people during the course of their working day.  By having this Temperature Monitoring Solution in place, we prevented that from happening, further reducing the risk.
"Securitas Technology installed the system in less than a day, without any disruption to our business" continues Shaun.  "The services they have provided us has been really good and I would recommend them."
Speak with an expert
If you have any questions or would like to discuss how best to implement thermal cameras into your existing security and safety processes, get in touch.